Google Pixel Tablet: Everything You Need to Know
After a year of teasing, information drops, and leaks, Google has finally unveiled the Pixel Tablet at Google I/O. This launch not only signifies the company's return to the tablet market after a gap since 2018 but also marks their first Android tablet release since 2015. From pricing and availability to specifications and the exciting Charging Speaker Dock, we have all the details you need to know about the Google Pixel Tablet.
Google Pixel Tablet price and availability
Pixel Tablet (8GB/128GB) with Charging Speaker Dock: $499 / £599 / €679 / CA$699
Pixel Tablet (8GB/256GB) with Charging Speaker Dock: To be announced
The Google Pixel slate will be released in Australia, Canada, Europe, Japan, the UK, and the US, but unfortunately, it will not be available in regions like India and Taiwan. Pre-orders will begin on May 10, and the tablet will be generally available by June 20.
Pixel Tablet Features - Pros and cons

Undoubtedly, the most noteworthy feature of the Pixel Tablet is its docking capability facilitated by the Charging Speaker Dock accessory included in the package. Placing the tablet on this dock transforms it into a Google Nest smart display of sorts.
With the dock, not only can you charge the Pixel Tablet, but you also get the benefit of enhanced speakers compared to those built directly into the tablet itself. When docked, the Pixel Tablet enters a Hub Mode, which offers various functionalities such as acting as a digital photo frame, enabling the use of Google Assistant without unlocking the tablet, and providing a persistent home panel for controlling smart home devices. Additionally, you can conveniently cast content from your phone to the tablet when it's docked.
However, there is one significant drawback: users cannot wirelessly connect to the dock to utilize its powerful speakers, not even via Bluetooth. If you desire that capability, it may be advisable to purchase an inexpensive Bluetooth speaker separately.
Stylus Pen Compatibility - USI 2.0 Stylus (not included)
Nowadays, tablets are not only for watching video or reading. You can also turn your pixel tablet into a notebook or a canvas by using a USI 2.0 stylus pen.The Google Pixel Tablet supports the use of a stylus pen, specifically the USI 2.0 (Universal Stylus Initiative) protocol. When it comes to stylus options, Penoval offers the best USI 2.0 stylus, highly recommended by Chomeunboxed, a leading influencer for Google devices and a top-selling stylus on Amazon. If you're considering purchasing the Google Pixel Tablet, don't miss out on the Penoval USI 2.0 stylus for Chromebook and Pixel Tablet. Always ready to bring your ideas to life no matter where the inspiration strikes.
Performance - Powerful performance with its Tensor G2 processor
The Pixel Tablet offers similar performance capabilities as the Pixel 7 series, featuring a Tensor G2 processor, 8GB of RAM, and either 128GB or 256GB of internal storage.
While the Tensor G2 may not match the sheer power of competing chips like the previous year's Snapdragon 8 Gen 1 lineup or the current Snapdragon 8 Gen 2 processor, it still delivers swift performance for everyday tasks and resource-intensive applications.
In our own testing of the Pixel 7 series, we found that the Tensor G2 outperformed certain Snapdragon 8 Gen 1 series smartphones in terms of sustained performance. Additionally, due to the larger form factor of the tablet, we anticipate even better performance here as it allows for improved cooling.
Design and build quality - Elegant and Seamless Integration

The Pixel Tablet features an aluminum frame and a nano-ceramic coating inspired by porcelain, which, when combined with the dock, creates a cohesive design reminiscent of Nest products rather than Pixel products. In terms of connectivity, the tablet includes a four-pin connector on the back for the Charging Speaker Dock, a top-mounted power button with an integrated fingerprint scanner, volume keys, and a USB-C port on the left side.
Pixel Tablet cameras: decent but limited.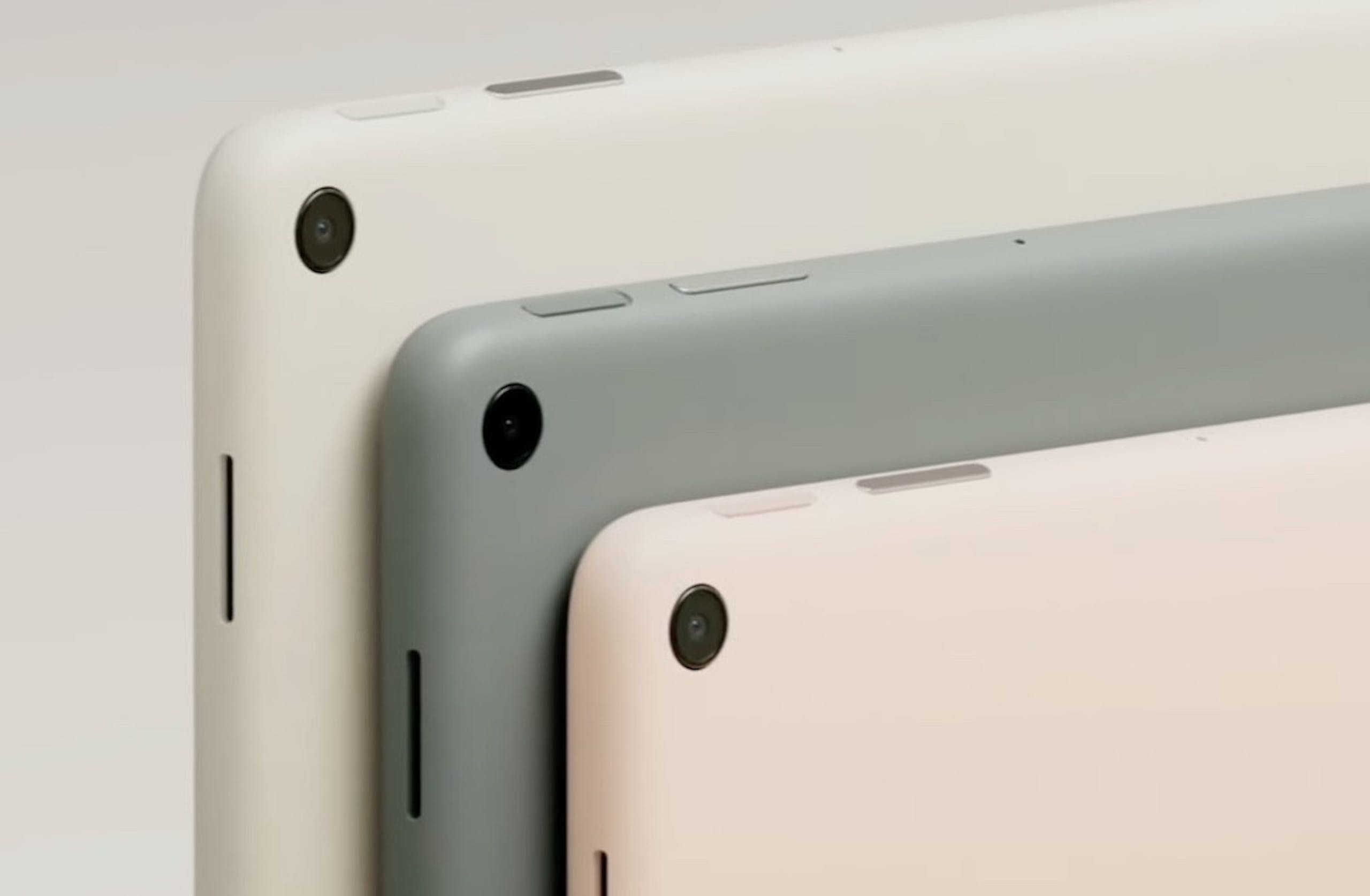 While the Pixel Tablet may not deliver a top-tier photography experience, considering its tablet form factor, it still offers an 8MP camera (ƒ/2.0, 1/4-inch sensor, 1.12μm, 84-degree FoV) on both the front and rear sides of the device.
Although both cameras are fixed-focus, they do come with some notable features. The front-facing camera includes a continuous framing feature similar to Apple's, ensuring you stay centered in the frame during video calls. However, this feature is limited to the docked setup.
The Pixel Tablet's camera app also provides various functionalities like Night Sight, Long Exposure, Top Shot, and Live HDR+ previews, offering some flexibility when capturing photos in different scenarios.
Battery Life - 12hrs Continuing Using Time
The Pixel Tablet features a 7,020mAh battery, which is relatively lower compared to other tablets such as the Samsung Galaxy Tab S8 (8,000mAh) and the OnePlus Pad (9,510mAh). However, this lower battery capacity can be justified as the Pixel Tablet is primarily intended for home use and remains attached to the dock when not in use.
For charging, the tablet supports 15W charging through a USB-C cable (charger not included). When docked, it charges at the same 15W speed. Wireless charging is not supported.
Google points out that, on a full charge, you can expect 12 hours of video streaming over Wi-Fi (via YouTube at 1080p).
Google Pixel Tablet Specification
Google Pixel Tablet Specification
Display
10.95-inch LCD
16:10 aspect ratio
2,560 x 1,600 resolution
60Hz refresh rate
276ppi
500 nits brightness (typical)
Stylus Pen
Supports USI 2.0 stylus (not included)
Processor
Tensor G2
Titan M2 security coprocessor
RAM
8GB LPDDR5 RAM
Storage
128GB or 256GB UFS 3.1 storage
No expandable storage
Power
7,020mAh battery
15W charging when attached to dock
15W charging when using USB-C cable
Cameras
Rear:
- 8MP wide (ƒ/2.0, 1/4-inch sensor, 1.12μm, 84° FoV, Fixed focus)

Front:
- 8MP wide (ƒ/2.0, 1/4-inch sensor, 1.12μm, 84° FoV, Fixed focus)
Video
Rear:
- 1080p at 30fps

Front:
- 1080p at 30fps

Formats:
- HEVC (H.265) and AVC (H.264)
Audio
3 far-field microphones
4-speaker stereo sound
Software

Pixel UI
Android 13
3 Android updates
5 years of security updates

Dimensions and weight
258 x 169 x 8.1mm
493g
Colors
Hazel, Porcelain, Rose

Some colors unavailable in certain areas
In the box
Pixel Tablet
Charging Speaker Dock
Power adapter
Quick Start Guide
Safety & Warranty booklet
Summarize

The Pixel Tablet offers a docking functionality with the Charging Speaker Dock, transforming it into a smart display. It comes with an aluminum frame, nano-ceramic coating, and a design that resembles Nest products.
The tablet has a 7,020mAh battery, lower than other tablets on the market. However, considering its primarily home-based use and attachment to the dock, the battery capacity can be forgiven.
In conclusion, whether to buy the Google Pixel Tablet depends on your needs. It provides an elegant design, seamless integration with the dock, decent performance, and useful camera features. However, the lower battery capacity and limited availability in certain regions should also be considered before making a decision.
If you need a USI 2.0 stylus pen for Google Pixel Tablet, Penoval offers the best USI 2.0 stylus for Pixel Tablet. Recommended by Chromeunboxed.

More articles:
More Videos: